Frontier
$TBC
AVAILABLE NOW!
Forward fold off-road camper trailer with built in lounge, Deluxe Awning + end wall with window, Sleeps up to 4 people, 5.5m open and towing length.
Perfect for those who love adventure, but with a bit of extra comfort.
New to NZ – secure yours today!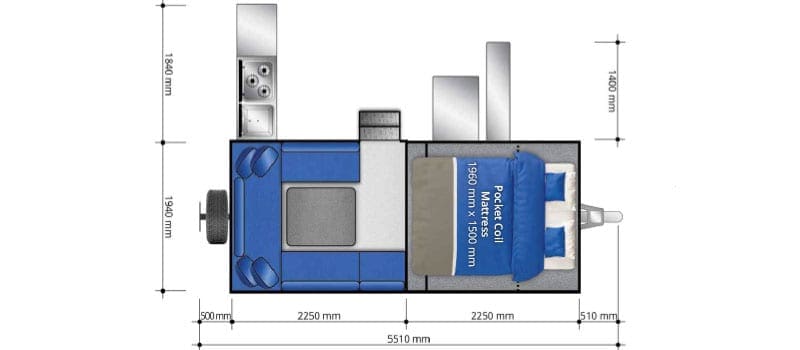 Sample photos and layout only. Weight and dimension details may vary due to specification and added upgrades. See us for more information.
Closed Body Length: 5.51m
Open Body Length: 5.51m
Closed Height: 1.6m
Body Width: 1.94m
Tare: 1,283kg
Tow Ball: 149kg
Berth, beds/total: up to 4 people
KEY FEATURES
5 year canvas warranty
5 year suspension & chassis warranty
Light to tow
Quick & Easy to Set Up (The Ezy-wind silent winch comes as standard)
Independent Suspension
12" Electric Brakes
17" Alloy Wheels
Extra long 1400mm Pantry
Rear Recovery Points x 2
Deluxe Awning + end wall with window
4kg Gas Bottle & Holder x 2
12V DC-DC Charger
LED Lights (internal & external)
Large Fridge Box & Slide with storage box
Microfibre Leather Lounge & Matching cussions in "Flint" x 4
Locker box with cushion
STANDARD INCLUSIONS
12″ Electric Brakes
Privacy Curtain
Rear Wall Canvas with Window
Roll Up Side Wall
Stonestopper Mud Flaps
Pocket Spring Mattress
Shock Absorbers (Set)
Rear Utility Rack
Projecta IC2510 (240V) Battery Charger and Monitor
Projecta IDC (12V) Battery Charger
External Outlet 240V
Internal Outlet 240V
LED Strip Lights (Merit Plug)
12V Pump
Hand Pump on Drawbar
Duratrac Tyres
Window Awnings-Bed DS & Front
LED Strip Lights (Merit Plug) 1.2 & 3.7 Metre
Mains Pressure on Kitchen
UPGRADES
FRONTIER PACK
– 2nd 100 AMP Hour Battery (Fitted)
– 2nd Water Tank (80L)
Hot Water & Shower unit
Front Wall Canvas (with window)
Draught Skirt
Subscribe Now
Stay connected with our Caravans & Camper Trailers newsletter