New generation fire extinguishers
The Firestryker is a fire suppression system with remarkable extinguishing capabilities and capacity.

The Firestryker is a simple and easy way to ensure that you are prepared in the event of a fire in your home, office or vehicle. Small and lightweight, Firestryker is environmentally friendly and can be safely stored for easy access in an emergency, preventing the fire from getting out of hand.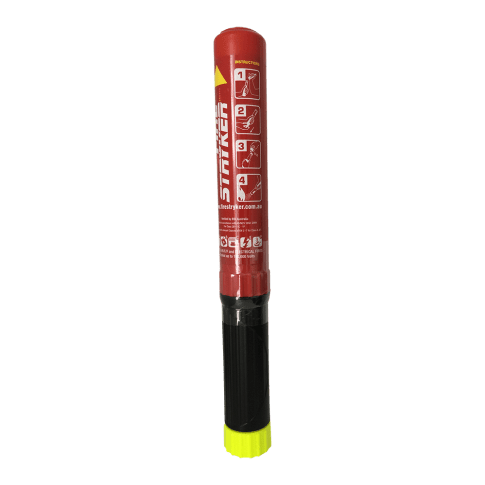 The Firestryker
The Firestryker is a small lightweight cylinder: the upper part is a metal tube containing the extinguishing charge. The lower part is made of plastic and serves as a support handle.
Upon ignition, the powerful extinguishing charge produces a potassium aerosol jet that lasts for approximately 100 seconds. Point the nozzle at the base of the flames to smother the fire at its core.
Certified for fire categories A, B, C, E & F
Easy to use
100 seconds fight time
Environmentally friendly
No servicing required
Up to 8 years shelf lifeˆ
Leaves no residue
Only 365 grams
Just one strike and the fire is out
ˆfrom date of manufacture