Holiday anywhere, any time
JB Caravans are designed with the intention to take you to amazing places. Built to the highest of standards, JB Caravans pride themselves in providing quality workmanship and finishing. They have a very skilled workforce with many years of caravan manufacturing experience between them. Incorporating a flow through process each caravan is assembled piece by piece to maintain their process of rigid quality control.
7 models (Currently)
A wide selection of size and layout options
On-road, semi off-road and full off-road models
3-year structural warranty
We are New Zealand's exclusive dealers
Have it your way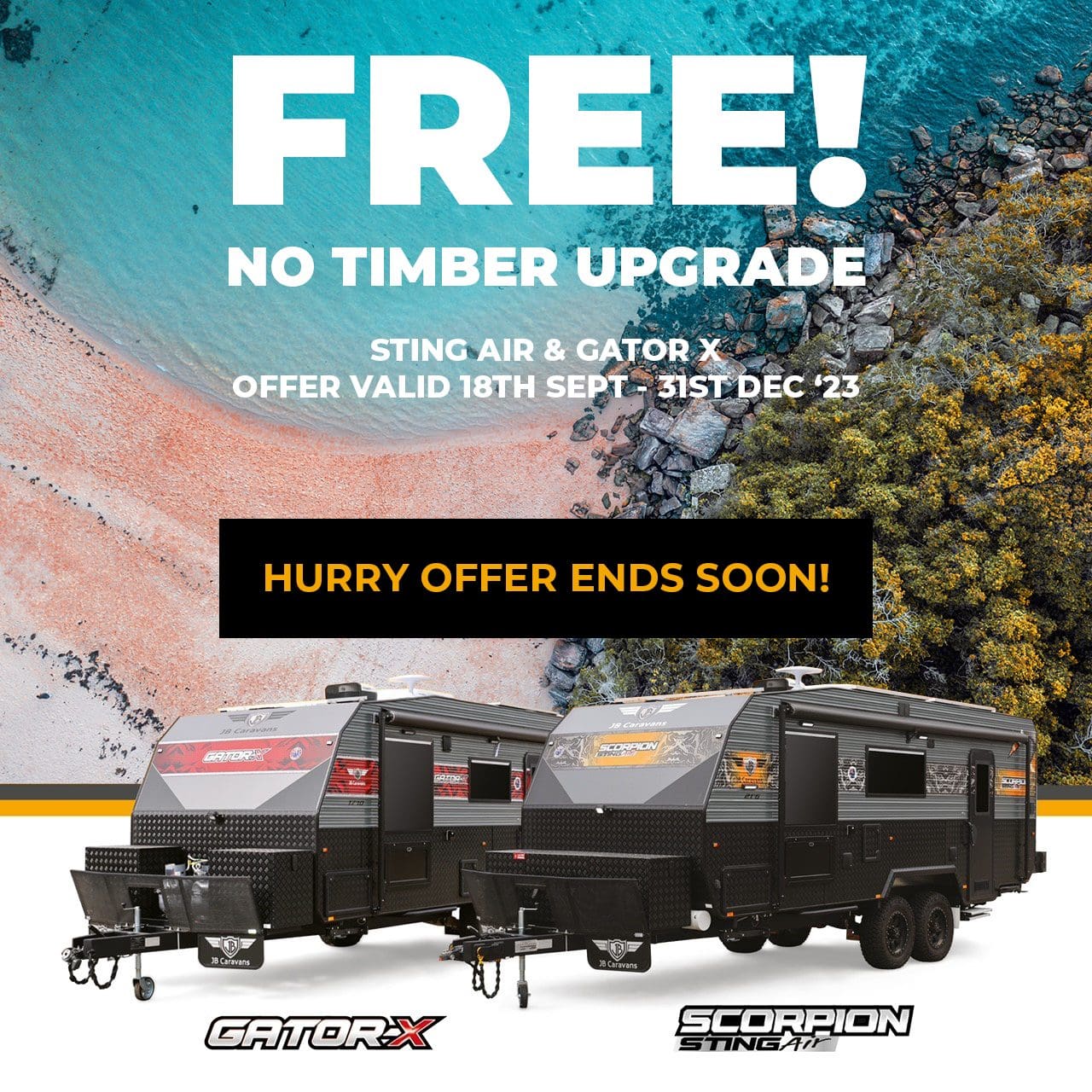 Exclusive deal from JB!
EXCITING NEWS! YOU HAVE ASKED FOR IT, SO HERE IT IS. FREE NO TIMBER UPGRADES ON STING AIR & GATOR X MODELS.
This offer runs from Monday 18th September, through to Sunday 31st December 2023. To all those adventurers keen to see New Zealand in luxury, we are here for you!
For more information on this exclusive deal or how you can get your hands on a JB, contact us at D&E Outdoors on 03 3079 557 today.

NEW Ecoflow battery system

Ecoflow Power Kits are compact, modular power solutions. Incredibly easy to set up and manage, charge with solar or by alternator on the go.
NEW Alloy roofing structure

Extremely strong and rigid, JB's new aluminium roofing structures will ensure that your caravan is hardy and built to last.
NEW Leather upholstery

Double stitched leather upholstery — Luxury, leather interiors that are sure to bring an ambiance of sophistication to your adventure.
NEW Insulated honeycomb flooring

A perfect balance of efficiency and lightweight strength, the new and improved honeycomb flooring will keep you cosy and well insulated on your travels.
NZ's most trusted RV insurance
Ask the D&E Outdoors team about Covi NZMCA insurance and drive away with your JB Caravan covered.
Genuine 5 year agreed value – no small print
Automatic cover for fixtures and fittings
Up to $10,000 RV-specific contents cover
The NZMCA's trusted Insurance Partner
JB Caravans Warranty Repairs.
In the unlikely event that you have a problem with your JB Caravan, you can make a warranty claim by clicking here.
Subscribe Now
Stay connected with our Caravans & Camper Trailers newsletter