Escape
$60,995
AVAILABLE NOW!
Spacious off-road camper trailer with all the essentials, Deluxe Awning, Front wall, Sleeps up to 4 people, 7.4m open length, 4.9m towing length.
Ideal for families or couples who want that extra bit of space.
New to NZ – secure yours today!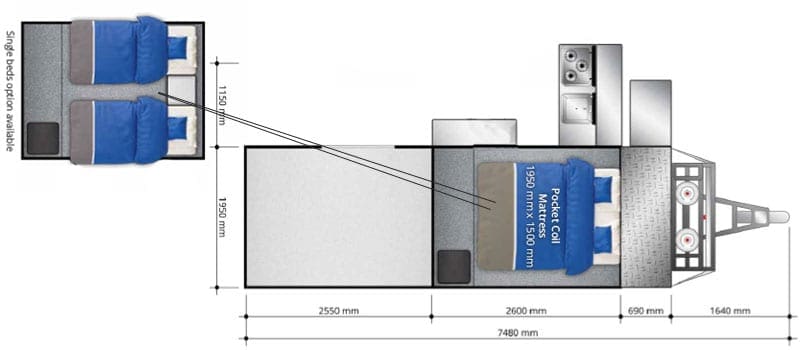 Sample photos and layout only. Weight and dimension details may vary due to specification and added upgrades. See us for more information.
Closed Body Length: 4.93m
Open Body Length: 7.48m
Closed Height: 1.78m
Body Width: 1.95m
Tare: 1,076kg
Tow Ball: 162kg
Berth, beds/total: up to 4 people
KEY FEATURES
5 year canvas warranty
5 year suspension & chassis warranty
Light to tow
Quick & Easy to Set Up (The Ezy-wind silent winch comes as standard)
Independent Suspension
12" Electric Brakes
17" Alloy Wheels
Rear Recovery Points x 2
Roof Rack Stabiliser Legs (with 180mm adjustment for uneven ground)
Deluxe Awning
4kg Gas Bottle & Holder x 2
12V DC-DC Charger
LED Lights (internal & external)
Large Fridge Box & Slide with storage box
Under-bed Storage
Locker box with cushion
STANDARD INCLUSIONS
AL-KO 250mm Jockey Wheel Upgrade
Electric Brakes
Hand Brake Protector Plate
Spare Wheel Wind Up Kit
Stonestopper Mud Flaps
Shock Absorbers (Set)
Pole Carrier Kit
External Power Point 240 Volt
IC2510 Smart Charge (25 AMP)
Internal Power Point 240 Volt
LED Strip Lights (Merit Plug)
LED Strip Lights (Merit Plug) 1.2 & 3.7 Metre
Kitchen Light-Stork Plug In
12V Pump (Requires Battery Pack)
Hand Pump on Drawbar
Mains Pressure on Kitchen
Ezy-Clean (Textured) Kitchen Top
Smev Sink & Glass Lid
Mix Tap
Side Shelf
95 lt Fridge Box
Window Awnings-Bed DS & Front
UPGRADES
ADVENTURE PACK
– 2nd 100 AMP Hour Battery (Fitted)
– 2nd Water Tank (80L)
– Utility Rack Upgrade
– Utility Spare Wheel Bracket
Front Wall Canvas (with window)
Awning Front Wall (with window)
Ezy Awning Kit
4 Draw Storage Cupboard
Draught Skirt
Subscribe Now
Stay connected with our Caravans & Camper Trailers newsletter