Andrew Bell, Superintendent at Hororata Golf Club talks to us about the challenges and joys of managing the Mid-Canterbury Club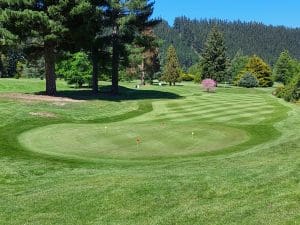 How long have you been in the industry for and at Hororata Golf Club?
I started as a summer labourer in 2005 at Christchurch Golf Club before taking on a three year apprenticeship there. Once qualified I stayed on for a further nine years with the final six years as 2IC. In 2016 I took on the position of sole superintendent at Hororata Golf Club in Mid-Canterbury.
Can you give our readers a bit of history about the Hororata Golf Club?
The Hororata Golf Club was first established in 1922 on Terrace Station in Hororata. By the mid 60's the club needed to expand from their 9 hole course, so after scouting out potential sites for a new golf course it was decided that part of the Glentunnel Domain would be the perfect spot. In 1970 the new course opened 9 holes. In 1975 it was extended to 12 and finally in 1979 all 18 holes were open.
Hororata Golf Club have a large volunteer base, how does the club run day to day with managing the volunteers?
I work closely with the Course Convenor and discuss areas I will need a hand with. I am very lucky to have a reasonably large number of volunteers who are passionate about the course. We have a core group who look after the mowing of the rough each week which takes up to 20 hours to mow. There are some very dedicated ladies who take great pride looking after the many gardens and native areas that are spread around the course and is a credit to them too.
Hororata recently hosted the 2022 South Island lnter-Provincial, can you outline any changes in your maintenance schedule for the tournament?
It was a privilege and definitely a highlight of my time at Hororata to be able to host this event. In terms of changes to the schedule there wasn't a lot other then a light renovation using bayonet tines at the beginning of September rather than our usual scarifying and tining in mid October. Because of the timing of this event being the peak spring flush, the mowing routine was similar to normal other then a couple of extra mows the week of the event. We also left the rough to grow longer which was quickly cut back down by the volunteers the day after the tournament. I was lucky to have more help than normal from the volunteers with the whole club getting on board which enabled some extra finishing touches being achieved.
What requirements did Canterbury Golf have for the course preparation – stimp meter readings, length of course hole placements etc?
To be fair they didn't really give me any requirements they just came out the week before and were happy with what they saw. Where we could I moved the tees further back and cut a few more challenging holes while not making them too hard. Because of the slopes on some of our greens I can't make them super quick but had them as fast as was sensible.
The good bits of the job?
I love the peace and quiet of this little country course set in an awesome location. The friendly and helpful members with a great community feel. With a very busy family lifestyle the flexibility of the hours of work is definitely something I need and enjoy.
And the bad?
The weather extremities. Long cold frosty days in winter with some of the greens in permafrost . Well above average rainfall in the years I've been here. Add in a few snow events each year and some strong NW winds just for fun!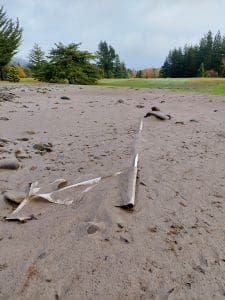 Hororata Golf Club have recently suffered some unfortunate weather events, can you tell us about these and how the course recovered?
In May 2021 we had we had 250mm of rain in two days. This lead to the Selwyn river bursting its banks and completely swamping the lower terrace of the golf course affecting 8 greens. We had bridges and fences swept away with a whole lot of debris left behind. The club was extremely fortunate to have over 200 volunteers from the Golf Club, golfing community and wider community come and help in the first few days really breaking the back of the clean up job.
A few months later we had a severe wind storm come though that flattened around 60 trees on the course. Then again in July last year we had another wind storm blowing down more trees including one onto the machinery shed. Fingers crossed we can now have a few years with no major events affecting the course.
Hororata have been recently purchasing new fleet, what machinery are you running at the moment?
We are currently running with an older John Deere 2653B which is a work horse. It is used to mow our first lap then with the quick adjustment the height is dropped to fairway height. We mow the outside of the fairways every other week to change wheel marks up as we still use gang mowers on the fairways. Then the height is dropped again as this is also our tees and surrounds mower. We recently purchased in a machinery pool with another club an Aercore 1000 giving us the capability to aerate when needed. When we needed to upgrade our greens mower it was hard to look past the John Deere 2550 hybrid, this has been a game changer for the course with the quality of the cut, ease of use and quicker traveling speed. Then our last purchase was a Trimax Snake after hearing all the hype we can see why they have been so popular around the world.
What changes have you seen at Hororata since you started?
The biggest change I've noticed is how much busier the course is. When I first started a quiet day was maybe 4 or 5 golfers now a quiet day I would see 20 odd. The membership has grown from 170 to around 240 and still climbing, with sub's under $500 it would be one of the more affordable courses around within an hour of Christchurch. With so many trees on the course we have a lot of pruning that goes on, add in wind and snow damage makes for an ever changing layout. Since I started we have teamed up again with Te Ara Kakariki and completed five new native areas on consisting of 2000 plants. These native areas are a real talking point and really compliment the course with the strategic placements of them.
What do you do in your spare time?
I'm pretty involved in my kids' sport, over the last couple of years I've been coaching my son's cricket and rugby teams. To stay fit I take them to run club each week and try to get them out hiking in the weekends when possible. I try and get away hunting several times a year both on private and public land with some big missions of up to 8 days backpack hunting in the Alps after Deer, Chamois and Tahr. A few years ago I ran the Queenstown full marathon and last season decided after a 11 year break to play cricket again. I managed to make the Darfield premier team, we went on to win the Canterbury country cricket competition for the first time which was awesome to be apart of.