Introducing the latest technology in testing horsepower
D&E are proud to announce that our Ag workshops now have a brand new DYNOmite PTO (Tractor) Dynamometer to give you accurate information about true HP, torque and RPM of your machines.
This state of the art technology will greatly assist our team with reporting, diagnostics and fault finding which can be done in the workshop or on-site.
We will now be able to offer a one-stop test and repair on-site (for fuel performance related concerns). Sustained endurance testing will help eliminate the need for running a machine to test for a fault reoccurrence.
With the ability to test up to 800hp and the application of Dyno-max Pro Software; the team will be able to offer accurate diagnostics and reports on the performance for just about any of your gear (with PTO fitted of course).
The full list of specifications are available on the land and sea website- with a technical explaination of the capabilities of this awesome machine
We currently have one DYMOmite Dynamometer so bookings are essential. Contact your local branch to book.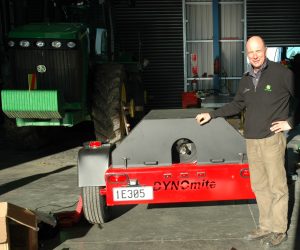 Steve McArthur in the Ashburton Ag workshop